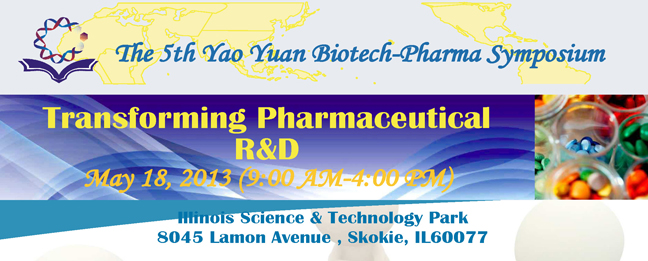 The pharmaceutical industry has experienced tremendous challenges in recently years due to "patent cliff" threats as well as changes in public and healthcare policies pertaining to how medicine is accessed and paid for. These challenges have caused investors, industrial leaders and scientists to question return on investment, justification of capital spending and career sustainability in R&D. With a theme of "Transforming Pharmaceutical R&D", Yao Yuan's 5th Biotech-Pharma Symposium seeks to gather and inspire scientists at the forefront of discovery and development in the pharmaceutical and biotechnology industries and to provide some context in this period of transition. This event will be a valuable opportunity for learning amongst professionals, academicians and students, and serves as a platform for discussions around transforming pharmaceutical R&D. Though primarily intended to be a Midwest regional gathering, e.g., Illinois, Indiana, Iowa and Wisconsin, the Symposium has historically attracted attendees from all areas of the country.
Featured Speakers
Companion diagnostics: Consideration of tumor heterogeneity
Mark Ratain, MD, Leon O. Jacobson Professor of Medicine and Director of the Center for Personalized Therapeutics, the University of Chicago.
Transform Pharmaceutical R&D, Leveraging Open Innovation & Accessing Global Talents
Guoxin Zhu, Ph.D., Executive Director, Eli Lilly.
The Discovery of Omecamtiv Mecarbil:  the First, Selective, Small Molecule Activator of Cardiac Myosin
Bradley Morgan, Ph. D., Vice President, Cytokinetics.
Discovery of Potent Inhibitors of HCV NS5B Polymerase
John Randolph, Ph.D., Associate Research Fellow, AbbVie.
Ponatinib, a third generation BCR-ABL inhibitor approved for leukemia treatment and AP26113, a phase 2 trial compound for ALK+ non-small cell lung cancer treatment
Wei-Sheng Huang, Ph.D., Associate Director, Ariad