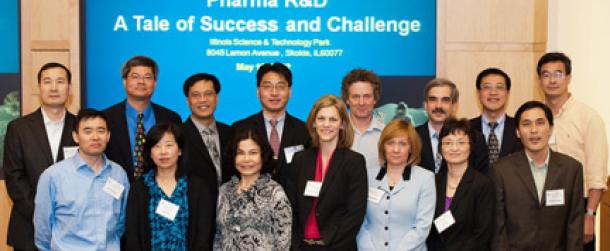 The 3rd Yao Yuan Biotech-Pharma Symposium was held on May 12, 2012 in the Illinois Science & Technology Park, north suburb of Chicago.  This symposium series is sponsored by Yaoyuan—Academy for Pharma Innovation, and organized by a group of scientists from pharmaceutical industry and academia in the Great Chicago area.  The organizing committee consisted of Drs. Paul Mar, Xuesong Liu, Liangjun Lu, Zhi-Fu Tao, Hongwei Wang, Xiangdong Xu, Lin Zhao, Haiying Zhang and Gui-Dong Zhu.  Dr. Paul Mar, CEO and Chairman of Board at SynChem, chaired this event.  "Pharma R & D, A Tale of Success" was chosen as the theme of this symposium to highlight the critical path and future horizons in drug discovery and development.  Six scientists who have played pivotal roles in the discovery and development of selected recently-approved drugs or companion diagnostic kit shared their exciting stories.  More than 120 scientists and professionals from pharma industry and academia attended the conference.  Multiple scientific vendors held product shows at the Symposium.
The symposium started with a welcome remark by Dr. Paul Mar.  Dr. Mar thanked all speakers and audience, particularly those out-of-town a raining day.
Moderated by Dr. Zhi-Fu Tao, a senior investigator at Abbott Laboratories, the morning session of the symposium consisted of three presentations.  Dr. Peter Senter, a vice president of Seattle Genetics, was the first speaker.  Dr.  Senter overviewed the important roles of monoclonal antibodies (mAbs) in cancer medicine and briefly explained the action mechanism of antibody cancer drugs such as trastuzumab (Herceptin), cetuximab (Erbitux), bevacizumab (Avastin) and rituximab (Rituxan). Then, Dr. Senter presented two major ways to improve the activity of antibody drugs: 1) Enhancing mAb ADCC activity by selecting stronger Fcg receptor binders. This has been accomplished using engineered cell lines that generate mAbs with optimized Fc regions designed for enhanced receptor binding (Xencor technology), or by changing the carbohydrate structures on the heavy chains of mAbs (Glycart and Biowa technologies). They have discovered an alternative approach involving the identification of biochemical inhibitors of the enzymes fucosyl transferase and GDP-d-mannose dehydratase (GMD). The inhibitors are fucose analogues, and can be added to cells that not only produce mAbs, but other proteins in which fucosylation is important for activity. Several applications of this technology were discussed, both in vitro and in vivo.  2) Enhancing mAb activity by appending highly potent cytotoxic drugs to them.  Dr. Senter discussed their researches in antibody drug conjugates (ADC), with new insights gained into the roles that antigen target, normal tissue expression, drug potency, drug mechanism, linker stability, and mechanism of drug release played in generating active ADC with acceptable safety profiles. He overviewed the discovery and development of ADCETRIS (Brentuximab vedotin, SGN-35), an ADC that was discovered and developed by Seattle Genetics and was approved by the US Food and Drug Administration in 2011 for use in relapsed or refractory Hodgkin lymphoma and relapsed or refractory systemic anaplastic large cell lymphoma.
The second talk was delivered by Dr. Feng Xu from Merk Research Laboratories.  Dr. Xu presented the chemistry innovation and process evolution in search of green manufacturing processes for Sitagliptin, a potent DPP IV inhibitor that is the leading drugs for the treatment of type 2 diabetes.  He began his talk with the essential elements of a good manufacturing process: Robust, Green, Cost-effective, Safe, Freedom of operation.  Based on these elements, Dr. Xu discussed two commercial manufacturing routes for the agent.  Starting from the same raw materials, both routes produced Sitagliptin in two pots, respectively.  The 1st generation route featured an unprecedented, highly enantioselective hydrogenation to set the stereochemistry of sitagliptin; and the 2nd generation route relied on an novel engineered enzymatic transamination.
The final speaker for the morning session was Dr. Michael Michaelides, head of chemistry in oncology at Abbott Laboratories.  Dr. Michaelides discussed the discovery of ABT-869 (Linifanib), an orally administered, potent and specific inhibitor of all VEGF and PDGF family tyrosine kinases currently in phase 3 clinical trials for treatment of liver cancer. He started his presentation with the introduction of KDR biology and the project rationale, followed by a brief description of kinase background.  He then detailed the medicinal chemistry effort that led to the discovery of ABT-869. He also described the transition of ABT-869 from discovery to clinic, with highlight on the formulation and PK/PD relationship.  Dr. Michaelides concluded his talk with multiple in-depth thoughts, including: 1) Leave room for empirism: hypotheses are important but are just that beware of reductionist approaches; 2) If you think you have a unique idea you are probably wrong;  3) PD in vivo models can significantly accelerate compound optimization; 4) Multiple chemotypes are critical to success; 4) Poor solubility is not a death sentence for a compound good lipid solubility and low dose can facilitate development; 5) Drug discovery is typically not a linear process.  Dr. Michaelides not only clearly presented the story on the discovery of ABT-869 but also elegantly incorporated and explained all important basics of drug discovery, which therefore made his talk very educational as well.
The afternoon session was covered by three speakers and moderated by Dr. Lin Zhao, Director for clinical science at Takeda.  The first speaker Dr. Alison Handley, director of clinical sciences at Takeda, presented her story entitled "Edarbi and Edarbyclor for the treatment of hypertension".  She started her talk by a brief introduction on the background of hypertension and cardiovascular diseases and then discussed the clinical development of the Edarbi and Edarbyclor.  The second speaker in this session Dr. Jean Cui, associate research fellow at Pfizer, described the discovery of Crizotinib, a potent c-Met/ALK dual inhibitor, was fast track approved in 2011 by FDA for late stage lung cancer patients with EML4-ALK fusion gene based on marked efficacy results from Phase I and II studies. The invention of crizotinib starts from a cocrystal structure of c-Met/PHA-665752 complex. The cocrystal structure of PHA-665752, bound to c-MET kinase domain, revealed a novel ATP site environment, which served as the target to guide parallel, multi-attribute drug design. The final speaker Dr. Ekaterina Pestova, a R&D manager at Abbott Molecular, discussed their stories on the development and analytical performance of Vysis ALK FISH probe kit.  The Vysis ALK Break Apart FISH Probe Kit is a qualitative test to detect rearrangements involving the ALK gene via fluorescence in situ hybridization (FISH) in formalin-fixed paraffin-embedded (FFPE) non-small cell lung cancer (NSCLC) tissue specimens to aid in identifying those patients eligible for treatment with XALKORI® (crizotinib).
The 3rd Annual Chicago Biotech-Pharma International Symposium concluded with very positive feedbacks from attendees.  Such great success would not be possible without collaborative effort of the organizing committee members and the generous support from the sponsors.