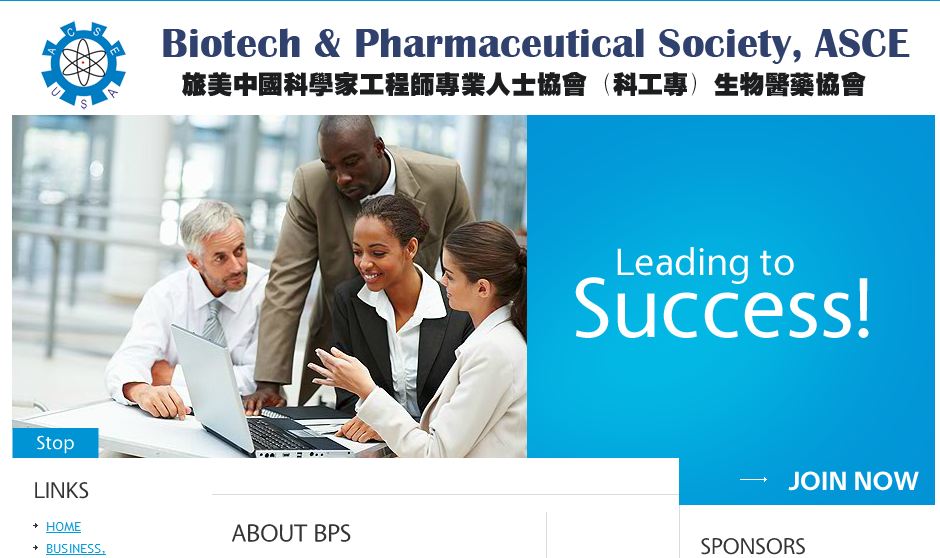 BioTech & Pharmaceutical Scoiety, ACSE
Founded in 1992, the Association of Chinese-American Scientists and Engineers (ACSE) (www.acse.org) is one of the largest Chinese American professional associations in the Unites States of America. ACSE is a not-for-profit, non-political professional organization headquartered in Schaumburg, Illinois with regional chapters in over 30 states. Biotech and Pharmaceutical Society (BPS) is a professional society within ACSE (www.acsep.org), and is committed to serving the needs of the ACSE members today and in the future in all areas of biotech and pharmaceutical sciences. BPS temps to bring together all Chinese people and groups in North America and beyond with an interest in biotechnology and pharmaceuticals. BPS aims to provide a dynamic platform for the exchange of knowledge among our members, and seeks to offer ongoing education, opportunities for networking, and professional development. BPS encourages the active participation, and is truly driven by the needs of its members.
The missions of Biotech and Pharmaceutical Society of ACSE include:
• Providing timely scientific programs and ongoing education to our members and beyond involved in the discovery, development and manufacture of pharmaceutical products and therapies.
• Facilitating the communication throughout the ACSE and with other organizations from both the United States and China.
• Building up a career network, increasing the exposure and assisting our member in job searching process.
• Fostering business opportunities in the life science industry between the U.S. and China
• Redesign a healthy, innovative, and rejuvenated model for future avenues of biotech and pharmaceutical development.
旅美中国科学家工程师专业人士协会简称《科工专》(www.acse.org)成立于1992年,是旅美华人最大的专业协会之一。科工专总部设于伊利诺伊州香堡市,在美国三十个州设有分会,是一个公益性、非政治性团体。生物制药协会简称BPS(www.acsep.org)是科工专的一个特色专业协会。生物制药协会的宗旨就是服务科工专生物及制药领域的所有会员,并吸引、联络北美及以外地区所有有志于生物科技和制药领域的华人,构建一个高效的人才交流平台、技术交流平台、发展职业技能的平台、提升创新能力的平台、甚至促进相关企业系列化新产品的平台。
生物制药协会的工作重心包括:
(1) 学术活动:组织各种有特色的学术研讨会,邀请世界制药及生物科技领域顶级专家做专业讲座,为生物科技、新药研发和生产等相关领域的会员介绍最新的科技进展。
(2) 会员交流:通过协会网站,并和制药业的专业网站《药源》合作,诚挚邀请所有会员积极交流新药研发在各阶段的新技术、新观点和新发现;评价各类新药的特征、功效以及优缺点;交流药物化学、高通量筛选技术、药理药效等各个指定技术领域的研发心得。提供一个全方位、零距离的沟通和交流的平台。加强学科间和团体间的联系与协作,促进美中制药行业的发展。
(3) 人才推荐:提供就业信息、分析就业市场,创造会员和企业的直接交流,发现和推荐生物技术及制药领域的科技人才。
(4) 技术平台:提供美中制药业各类技术和产品信息,为美中生命学科企业牵线搭桥。
(5) 公益性工作:普及制药方面的知识、经验和技巧,介绍一种新的思考理念和不断创新的精神。根据新药研发的特点以及全球经济发展趋势,探讨一种崭新的、健康的、有生命活力的新药研发模式。